I love crochet doilies. For as long as I can remember we have always had beautiful doilies, made by my mother, decorating our home. Now that I have a home of my own, I still love using doilies. They add a bit of old-fashioned, winsome charm to a room.
My mother found an old crochet patterns book at a Goodwill store for me when I was in my teens and I loved (and still do!) to look through it at all the old, beautiful patterns for doilies. I recently discovered that someone had taken the time to type many of them up and made them available online--for FREE. The website is
Free Vintage Crochet
. The ones from the book I have are listed by number (
for example: Number 7318).
Up until this year, I've never really tried my hand at doilies. I've crocheted since I was very young, but could never get the hang of small thread. Worsted and baby weight yarn were more my cup of tea. Now that I have more time on my hands I've gotten brave and decided to conquer my timidity towards small thread. I practiced with some small tablecloth motifs for a little bit, then summoned up my courage and attempted a pineapple doily. Now I'm in love!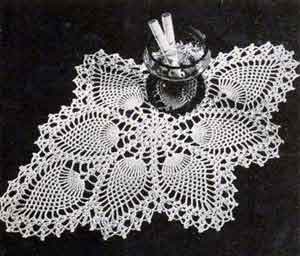 This is the
doily pattern
I used. I didn't make it an oval--I just made the six pineapples and didn't make the last two. It was much easier than I thought and so rewarding when I finished it.
This is another really neat website with lots of free crochet patterns--many available in a free PDF format.
Have fun and enjoy browsing through the patterns!